Putin: Russia Is Fine With $60 Oil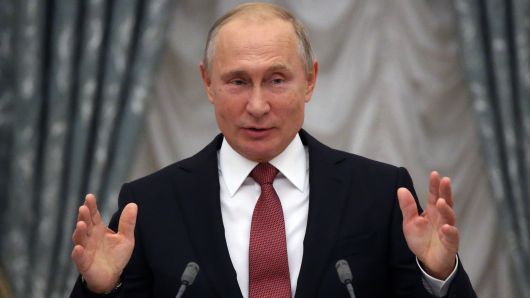 Russia is comfortable with the current level of oil prices at around $60 a barrel, Russian President Vladimir Putin said at an investment forum on Wednesday, also thanking Saudi Arabia and its Crown Prince Mohammed bin Salman for the OPEC-Russia cooperation in managing the oil market.
Russia is comfortable with $60 oil, as its budget is balanced at $40 oil price, and for next year, that budget-balance oil price is calculated at $43 a barrel, Putin said today, a week ahead of the OPEC+ meeting in Vienna and just a few days before the G-20 summit in Buenos Aires, at which Putin is expected to meet separately with U.S. President Donald Trump and with the Saudi Crown Prince.
"We are now in contact with OPEC and if needed, we will continue this joint work," Putin said, referring to the OPEC cooperation with non-OPEC nations led by Russia.
Just two weeks ago, speaking to reporters about the OPEC+ deal, Putin said:
"As for the need to limit production or not, I will not say anything about this for the time being. We must be very careful in this respect because every word is important and affects the federal budget revenues. However, it is obvious that we should cooperate and we will cooperate."
"About $70 per barrel suits us perfectly well considering that the expenditure side of our budget is based on $40 per barrel," Putin said in mid-November.
Now, according to Putin, even $60 is a comfortable oil price for Russia. Moscow has so far signaled reluctance to jump into a new production cut again just as it has raised its oil production to a post-Soviet high.
But this $60 oil is not as comfortable for Russia's partner in the deal and OPEC's de facto leader Saudi Arabia, which would prefer higher oil prices to balance its budget.
Saudi Arabia and its Crown Prince Mohammed bin Salman, however, are under pressure from U.S. President Donald Trump to keep oil prices low. The Saudis may not risk publicly announcing an oil production cut measured in millions of barrels per day, thus potentially angering President Trump who has stood by the Kingdom and the prince amid the international outcry over the killing of Jamal Khashoggi.
Putin's remarks today also show support for the Saudi prince, while analysts think that the G-20 summit in Argentina may be the more important venue for the OPEC-Russia oil cooperation than next week's full OPEC+ meeting.