ABB to Supply Microgrid Supports to Jamaican Renewables Expansion
Munro Wind Farm in St. Elizabeth Jamaica (© Jamaica Public Service Company
Switzerland's ABB is supplying a microgrid and storage system to help Jamaica integrate renewable solar and wind energy into its power supply.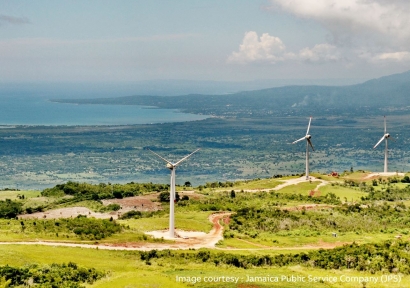 Munro Wind Farm in St. Elizabeth Jamaica (© Jamaica Public Service Company)
---
ABB says the installation of its ABB Ability system will help the large tropical island reduce its use of fossil fuels and lower its carbon footprint.
"This is one of the most significant projects to be undertaken by Jamaica Public Service Company Ltd., this year and will be a model for other countries in the Caribbean and beyond," said Emanuel DaRosa, president and CEO of the utility.
"ABB's innovative technology will enable us to leverage clean renewables into our energy mix while securing grid stability and ensuring reliable power supply to consumers," DaRosa said.
Located about 500 miles southeast of Cuba, Jamaica's hotels, restaurants and homes rely heavily on imported fossil fuel, which is costly and subject to volatile prices.
As part of an initiative to integrate more renewable sources into its energy mix, the Jamaica Public Service Company has incorporated about 160 MW of renewable energy into the power grid -- accounting for about one quarter of its total generation capacity.
The integration of ABB's 24.5 MW microgrid facility and energy storage system will enable power availability when solar and wind sources are interrupted due to cloud cover, reduced wind or other factors, the company said in a news release.